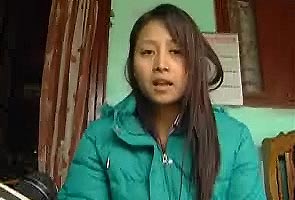 Source :
http://www.ndtv.com
Reported by
Kishalay Bhattacharjee
, Edited by
Ashish Mukherjee
Imphal: Protests continued for the second day in Manipur's capital Imphal against the molestation and assault of a 22-year-old popular actor, Momoko, allegedly by a Naga militant leader.
The protesting film and theatre artistes, who were led by Momoko, demanded immediate action against the militant, Livingstone Anal, as promised by Home Minister Gaikhangam yesterday. On reaching Chief Minister Okram Ibobi Singh's office, they were lathicharged by the police.
Livingstone, a leader of the National Socialist Council of Nagaland (IM), allegedly assaulted Momoko during a fundraising concert in Chandel town earlier this week.
"He was touching me. I warned him. Then he pulled my hair and threw me on the ground and repeatedly kicked me. He also hit my left eye," the actor alleged.
NDTV does not reveal the identities of women who have been assaulted, but Momoko requested that her identity not be concealed.
She said securitymen present at the concert did not help her. "When we asked the securitymen why they didn't help, they said they are on ceasefire. Does that mean a woman gets beaten in front of the police and they do nothing?" asked the actor.
Anal allegedly fired several shots at a co-actor who tried to help Momoko, but nobody was hurt.
According to a United Nations data, 70 per cent of women and girls experience sexual violence from men in their lifetime, but it occurs with shocking regularity in conflict zones. Rape and all forms of sexual violence are used as tools to dominate, control, subjugate and intimidate, and that is the reason such violence in any hostile area is recognised internationally as war crime.
Somiroy, a film curator from New York visiting home, also joined the protest. "Any violence is unacceptable, but being part of the film community of Manipur, it is our obligation to point out that this is something we have to say a resounding NO to," he said.
The protest threatens to turn into a mass agitation if the administration fails to act. The artistes have called for an indefinite Manipur bandh unless Anal is arrested.